Bounce House Rentals Company in Houston TX Offers Moonwalks and Waterslides
March 29, 2022 at 16:54
Martibird Inflatables, a company based in Houston, TX, is pleased to announce that they specialize in inflatable rentals, making it easy to rent bounce houses, moonwalks and waterslides in the Houston Metro Area for parties, family gatherings, corporate events, school functions, and the like. All of their bounce house rentals have been ensured to be in compliance of industry standards. Every inflatable rental is fully insured, licensed, and assured to be safe for everyone. More about this can be gleaned from https://www.martibirdspartyinflatables.com/houston-bounce-house-rentals/.
Martibird Inflatables offers a wide variety of bounce houses and moonwalks for rental for customers in Baytown and surrounding communities. One example is DJ Frosty, which 20 feet in diameter and 24 feet in height. It features a bouncy area at the bottom with LED motion activated lights and Bluetooth speakers. It is suitable for big backyard parties, festivals, advertising, corporate events, and the like.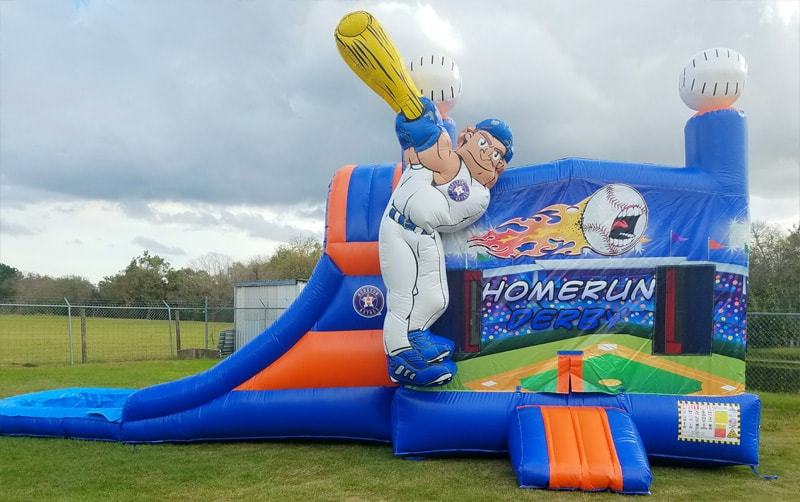 Another good example is the Inflatable Snow Globe, which measures 20 feet by 15 feet. This is a unique 12-foot inflatable snow globe that has an attached igloo that functions as an airlock to allow a guest to enter while the globe is inflated. Other bounce houses and moonwalks available include the: Lil Mermaid bounce house; Millennium Falcon bounce house; Batman bounce house; Girls Moonwalk; Superman bounce house; New Princess bounce house; Pirate bounce house; The Cowboy bounce house; Extreme Dance Party bounce house; The Dazzling Castle bounce house; The World of Disney bounce house; Boy Castle bounce house; Dump Truck bounce house; Carnival Frenzy bounce house; Astro Combo bounce house; Minnie Mouse bounce house; Mickey Mouse bounce house; and more.
And with the hot summer months fast approaching, water slide rentals are experiencing an increase in demand. Martibird Inflatables has some of the widest selection of water slides in the Gulf Bay area. One example is the 30-foot tall The Patriot, which measures 55 feet in length, 30 feet in width and 30 feet in height. It is a double lane American themed water slide with marble blue sliding lanes that plunge down to a curved 180 degree slip and slide that finishes in a large pool.
Other water slide options include the: Cali Extreme water slide; Astro Combo water slide; Big Wave Jr water slide; Boy Castle water slide; Caustic Foam Drop water slide; Color Explosion Wet/Dry Combo slide; Flash water slide; Frozen 5n1 Combo water slide; Basketball Combo water slide; The Kraken water slide; Fire Fly water slide; Lightning Cove water slide; Mini Crush water slide; Ninja Turtle C4 Wet/Dry Combo water slide; Pirate water slide; Roaring Thunder water slide; Rocking Rapids water slide; Shark Island water slide; and more.
Also available from Martibird Inflatables are interactive game rentals. One example is the Air Bots, which is an innovative robotic air ventilated Sumo suit that comes with a 30-foot diameter inflated battle platform. The four suits are suitable for both adults and children. There is also the Double Axe Throw, which allows guests to compete in throwing realistic foam axes. Also available is the Martibird Electric Express Electric Trackless Train, which can offer lots of fun for both children and adults. It includes: a professional train engineer; real train sound effects; smoke; sound system; the best trackless train Houston can offer; smiling faces; and best in service and quality.
Other interactive games available include the: Cross Fire cross ball game; DJ Frosty; Dunk Tank; Extreme Dance Party; First Down football game; Foam Machine; Frosty the Snow Machine; Giant Beer Pong; Giant Connect 4; Hungry Hippo; Giant Jenga; Giant Foose Ball; Home Run Derby; Joust; El Loco Mechanical Bull; Mirror Me Photo Booth; Nerf Platoon; Ninja Warrior Jump; Party Rocker Foam Pit; Polar Express Electric Train; Slam Jam; Soccer Darts; Speed Pitch; The Ultimate Obstacle; Rock Wall; UFO Laser Tag; Ultimate Ninja Warrior Obstacle; Warrior Jump; and Wrecking Ball Xtreme.
When in need of bounce house rental Houston TX residents can check out the Martibird Inflatables website, or contact them on the telephone or through email.
###
For more information about Martibird Inflatables, contact the company here:

Martibird Inflatables
Jason Wasson
(832) 414-0837
jbird201082@gmail.com
Houston, TX